Today, COVID-19 continues to affect people, industries and businesses around the world. The mining and metals industry is no exception. From protecting the health and safety of workers, to getting severely disrupted operations and supply chains back on track, mining companies have been aware that swift collaboration with governments and communities is key to emerging stronger from the pandemic.
And their quick responses have paid off. In 2021, commodity prices surged to a record high following the initial COVID-19 shockwave. Even in the year before, the combined revenue of the top 40 mining companies amounted to an estimated USD 656 billion worldwide. The outlook is expected to be even better going forward, according to the latest PWC mining report.

The mining sector has never been in a better position to advocate for the future. A future of lower carbon emissions, healthier ecosystems, and more efficient and responsible use of water.
Corporate water transparency: better for the environment, better for the business
Many leading mining companies already understand the importance of building environmental, social and governance targets (ESG) into their organisational strategy. Investors are increasingly drawn towards companies that actively embrace ESG policies, especially with regard to water.
---
Some of the world's largest mining companies, such as BHP, Freeport-McMoRan, Glencore and Rio Tinto – have made firm commitments to water governance by aligning with industry-recognised standards to address water challenges in mining.
An example is the Responsible Minerals Initiative's (RMI) ESG standard for mineral supply chains, which includes specific targets for water management. And members of the International Council of Mining and Metals (ICMM) must publicly report their water performance, risks, opportunities and response using industry metrics. They will also need to comply with the Global Reporting Initiative's (GRI) water reporting standards – the world's most widely used standards for sustainability reporting.
Not only does committing to these reporting standards help reduce water impacts for the benefit of both the business and the environment, doing so ensures that mining companies stay on track with their ESG goals.
What tools can help mining companies in their water reporting?
Common water accounting and reporting metrics require mine operators to describe their mines' water balance and demonstrate:
Water inflows and outflows associated with the site, including water withdrawal, discharge and consumption
Key water flows and dynamics internal to the site, including operational water reuse/recycle, operational water use and change in storage
Assessment and mitigation of operational and stakeholder water risks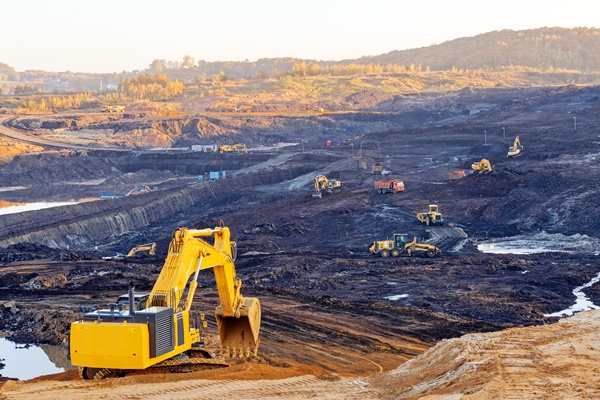 Mines are highly dynamic environments subject to frequently changing site conditions, mine plans, seasonal climatic variations as well as other water-related factors. So where does one start?
Here are three tips for mining companies to get started on their corporate water reporting:
1. Become familiar with water reporting guidance publications and resources
The ICMM's 'Water Reporting: Good Practice Guide' supports the mining sector in compiling simple and relevant information on water and provides a solid foundation for consistent water reporting. It defines benchmarkable metrics and provides practical support for members to meet minimum reporting standards. While the target audience is primarily its members, other mining companies are also encouraged to adopt and implement the approaches to enhance water transparency and benefit the environment.
Another useful resource is the widely adopted Mining Association of Canada's Towards Sustainable Mining (TSM) standard. It is a globally recognised sustainability programme that supports mining companies in managing key environmental and social risks. One of TSM's central goals is to minimise mining's impact on the environment and biodiversity through all stages of the mining lifecycle, from exploration to mine closure. Companies are measured and publicly report their performance for several environmentally-focused TSM protocols. Eight other national mining associations in South America, Africa, Europe, Asia-Pacific and Australia have adopted TSM standards.
2. Use the right tools
---
An effective mine water management program should 1) adapt over the mine life cycle, 2) integrate quantitative tools, 3) inform operational decisions, 4) proactively mitigate water risks and 5) meet or exceed industry standards and evolving stakeholder expectations.
Operational, environmental and economic benefits are best realised when supported by an integrated ensemble of quantitative tools. These typically include a dynamic water balance model , a digital twin for water-related operations, a centralised data management platform and catchment-scale surface water/groundwater models. More specialised numerical methods are often employed to understand and manage water-related challenges specific to Tailings Storage Facilities (TSFs), mineral processing facilities, mine dewatering and Waste Rock Facilities (WRFs). Early, mid-life and later stage mine operations, regardless of size, will benefit from the proper implementation of quantitative water accounting models and tools.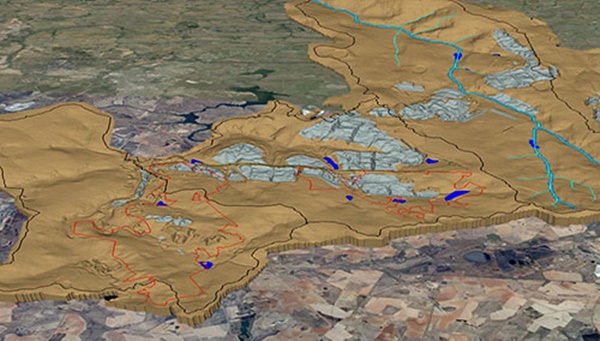 Given the range of complex water-related challenges and the many options to choose from, understanding, deploying and integrating the proper tools can be a daunting process for mine operators. Engaging with a team of trusted independent technical advisors can provide much-needed navigation, interpretation and strategic support to define and achieve mine water management objectives
3. Get a visual overview of all your mine water data
To get a complete understanding of existing mine conditions, it's not enough for mining companies to only consider modelling technology; they also need to manage diverse historical data records and acquire real-time data. The technology for real-time water data acquisition is expanding rapidly and becoming more readily available for mine operators of all sizes. While this increased availability provides more timely high frequency data, it has many mine operators struggling to assimilate, display and share large and diverse data sets to get a complete picture of real-time water conditions.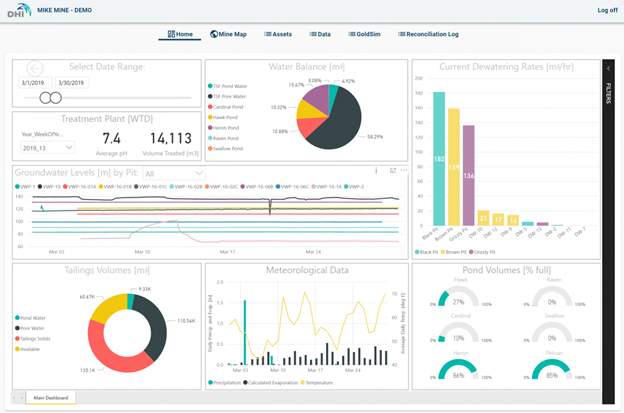 To gather all this data and translate it into actionable insights in real-time, operators are finding it useful to have a dynamic digital representation of their mine operations displayed automatically through a customisable dashboard that queries data from a secure, web-based and centralised database. Such decision-support tools help manage and consolidate multiple and large data streams and make the water reporting process simpler, shareable, scalable and auditable.
The benefits of good water practice
Successful mining companies adopt consistent water reporting not just to tick another box in their ESG commitments, but because they recognise that responsible water management plays an important role in tackling water scarcity on local and global scales – and they want to make a difference.
Moreover, by consistently reporting their water use, mining companies demonstrate to investors how they manage water risk, as well as mitigate impacts on the local community and ecosystems in which they operate. At the same time, water reporting helps them manage water consumption more efficiently, resulting in lower operational costs.
---
Sustainability can seem a daunting concept to incorporate into business practices, but there are in fact concrete and manageable steps that mining companies can take today. Acting on the three tips in this post is a good start on the path to a better future, for the business and for the environment.
Contact us to get inspired.
You may also be interested in:
Reducing water footprint at mine sites: What every operator needs to know
Cloud technology: How a visual overview makes mine water management easier
How do we balance lithium mining with the environment? The answer is digital