Rapid coastal development, combined with population growth and global industrialisation, is placing coastal and marine environments under increasing pressure. New ports and harbours, coastal defence and climate change adaptation measures, as well as land reclamation and dredging works are imperative in order to support our existing and future economy.
Most of these projects typically go through Environmental Impact Assessments (EIAs) to identify potential environmental impacts. Mitigation is proposed as part of the EIA. The mitigation may be implemented as a standalone project or as part of an Environmental Monitoring and Management Plan (EMMP – more on that below) in some cases.
However, an EIA is usually based upon a range of assumptions about the timing and methodology of the construction works. These details are only available once the construction contract is awarded. They also keep changing throughout the course of the development in response to changing site conditions.
A proactive EMMP is a tool to effectively manage and confirm that impacts of dredging, reclamation and other marine construction activities do not exceed the stipulated environmental quality objectives for the project.
The most effective EMMP approach
The international best practice approach to manage construction phase impacts from large scale marine infrastructure projects is a proactive, adaptive EMMP referred to as a Feedback EMMP. It is regarded as the most effective EMMP approach for control and mitigation of potential environmental impacts of construction in sensitive marine environments.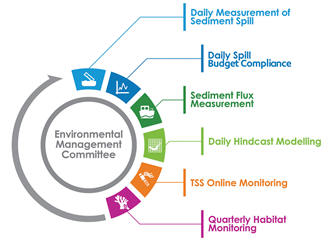 Key components of Feedback EMMP. © DHI
The benefits of proactive EMMP
Proactive EMMP enhances your projects in more ways than one.
Through numerical models, it can provide early warnings of impact on land reclamation activities and establish mitigation measures. It allows us to safeguard biodiversity and protect the environment. Implementing the Feedback EMMP approach directly helps to avoid costly downtime as clear dialogue is established daily. At the end of the day, it also helps to reduce clients' exposure to public complaints associated with environmental impacts.
The ultimate goal?
To effectively manage, prevent and mitigate adverse impacts of construction and development activities on the marine environment.
Link up with us to learn how we can help you implement proactive and adaptive measures to protect the environment.