A partner case study with Airbus Defence and Space

Satellite technology solutions are frequently used to monitor critical habitats worldwide and to keep track of remote, vast, dynamic and inaccessible areas in high spatiotemporal detail. Here's an example from Florida, US where new Airbus Defence and Space Pléiades Neo data was applied to derive key parameters to underpin conservation management efforts.
The challenge today
The state of Florida is one of the most biodiverse regions of America and home to more than eighty distinct ecosystems and a wide diversity of different plant and animal species. However, Florida's ecosystems are increasingly under threat from human activity, climate change and natural processes, not least its coastal regions which are home to many endangered species that rely on healthy and well-functioning marine and coastal ecosystems.
Florida's coastal waters are some of the most productive and diverse ecosystems, often dominated by submerged aquatic vegetation (SAV). SAV includes a taxonomically diverse group of macroalgae and seagrasses that lives below the water surface in coastal and estuarine waters in large meadows or smaller patches. The health of aquatic vegetation is a key indicator of the ecological status and environmental state of ocean and estuarine waters.
They perform critical functions which are difficult to replace, such as:
providing habitats, spawning grounds and food for many different marine species
adding oxygen to the water and removing excess carbon dioxide
improving water quality by absorbing excess nutrients
stabilising sediment and reducing erosion
One of Florida's most endangered species, the manatee, relies almost entirely on the extensive beds of seagrass and freshwater aquatic vegetation in the estuaries and freshwater lakes, springs and rivers. As the manatee's primary food source, healthy and abundant SAV communities are a precondition to their survival – however, Florida's SAV communities are increasingly under threat, not least because of human disturbance and climate change. A record-high 1001 manatees died in 2021, largely due to starvation caused by the loss and degradation of aquatic vegetation. As a result, Florida Wildlife officials started a campaign feeding starving manatees with lettuce in early 2022.
Due to the nature of their important ecosystem functions, up-to-date knowledge about SAV abundance, distribution, health and growth dynamics is critical, in order to assess the impacts of management efforts, identify degraded communities and monitor overall marine health. However, SAV communities are also highly fragmented in both time (in some locations, changes occur within days and in others, over weeks or months) and place (organised into many different heterogeneous patches of individual communities) which makes SAV monitoring a challenging task.
Traditionally, a combination of diver observations, photos and/or video recordings, to determine e.g., spatial coverage and species composition, have been used to monitor SAV habitats. However, these techniques are time-consuming, labour intensive and highly limited in their spatial extent and thus unable to fully capture the spatiotemporal dynamics.
The possibilities
Modern satellite technology provides new avenues to underpin conservation efforts by addressing key limitations associated with existing monitoring techniques – providing a reliable, consistent and cost-efficient alternative. With new very high-resolution (VHR) satellites sensors, such as Airbus Pléiades Neo, it is now possible to frequently assess SAV communities both quantitatively (distribution, abundance and dynamics) and qualitatively (growth patterns and threats), at scale. Pléiades Neo data can also be applied to accurately map shallow water bathymetry in high detail as well as monitor populations of large marine species, including manatees.
In this case example, DHI applied new Pléiades Neo data to test the application potential and perspectives of using it as a VHR spatiotemporal source of data to map aquatic vegetation, water depths and objects (vessels and manatees) in and around Crystal River – the so-called manatee capital of Florida.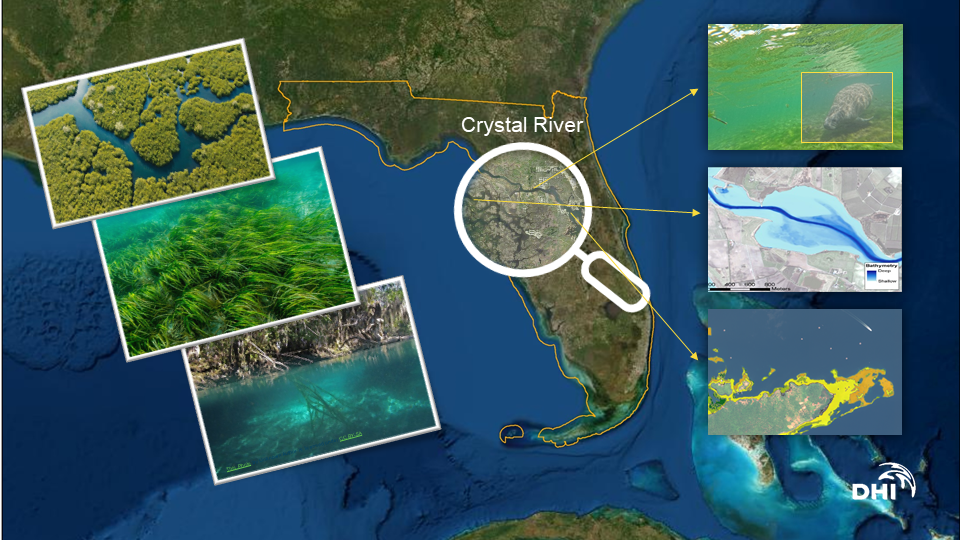 As seen from the illustration below, the derived Pléiades Neo-based bathymetry and SAV products provide comprehensive and highly detailed insight into water depths in the shallow water coastal zone as well as SAV distribution and abundance in the Crystal River delta.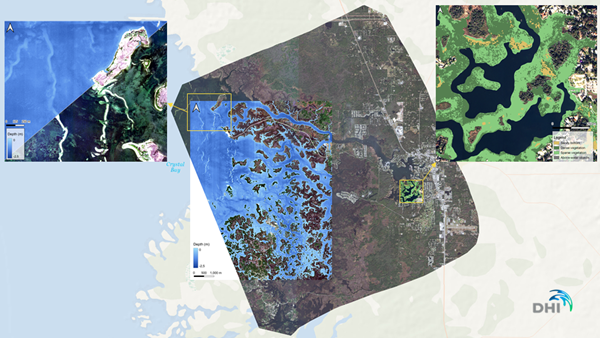 The benefits
With its twice-daily revisit time, Neo data can be applied to continuously map and monitor all of Florida's fragile coastal ecosystems, thus providing up-to-date insights into the growth and dynamics of SAV communities at scale.
Furthermore, with a 30cm resolution, Pléiades Neo data provides new opportunities for assessing qualitative SAV parameters, such as detecting and mapping impacts of propeller scars. These scars, caused by motorboats, are extremely detrimental to SAV communities across Florida's coastal areas, and in order to underpin conservation efforts, it is vital to have comprehensive and up-to-date information on the areas where these scars occur as well as how they develop over time.
Pléiades Neo data can be used to map and monitor these scars as they develop – thus providing authorities with a timely tool to evaluate threats and assess mitigation needs. In combination with the satellite-derived bathymetry data, the most vulnerable shallow water areas with exposed aquatic vegetation can also be easily identified and protected.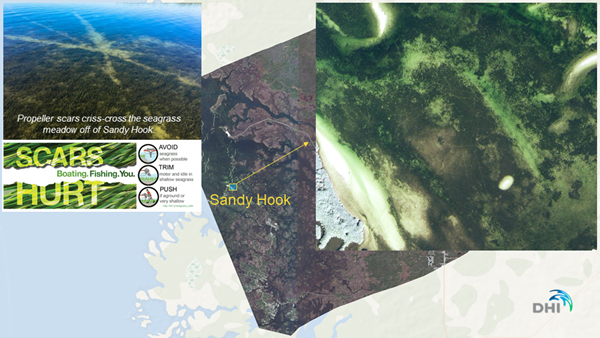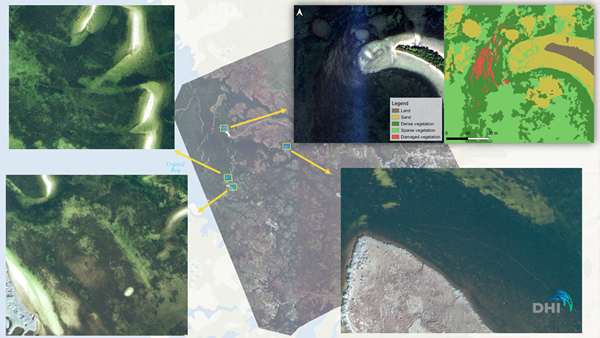 Lastly, Pléiades Neo data can be used to monitor objects, such as individual boats and manatees as illustrated in the example below from the inner Crystal River estuary. Using novel deep learning technology, such assessments can be conducted accurately, timely and at scale, for comprehensive monitoring of boat traffic density and dynamics as well as population assessments of manatees or other marine species (e.g., basin-wide assessments of whales or whale sharks).